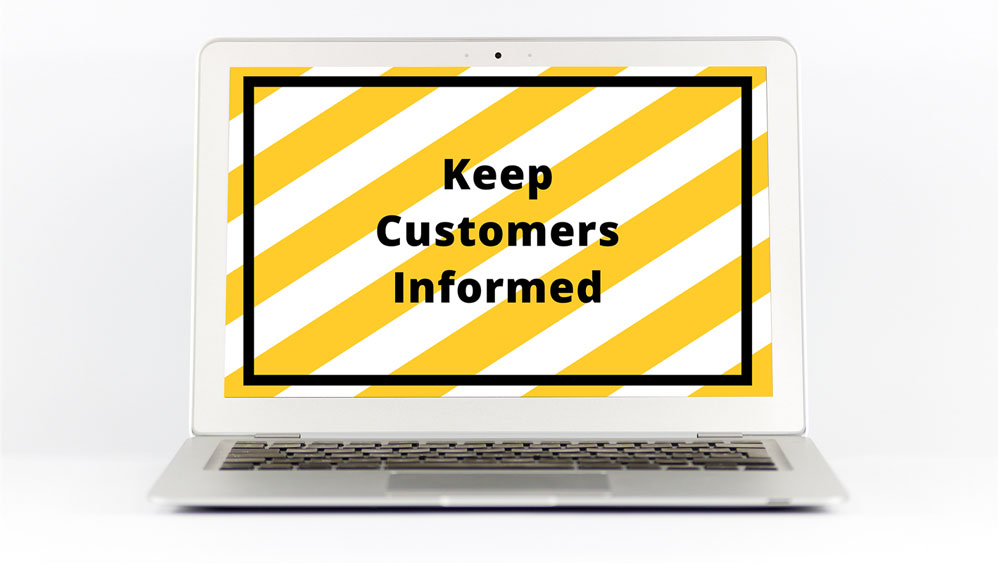 As of 11:59 on Tuesday, 17th August 2021, New Zealand has moved into Covid-19 Alert Level 4.
Quickly changing between alert levels is now becoming the norm here in New Zealand. If we accept that this will continue to be the case for the foreseeable future, then we can take steps to become more prepared for the next level change.
Each alert level will look different for every industry and every business. With these changes, everything is fluid, from opening hours and availability, to operating procedures and stock levels. Customers want to know what they can expect when interacting with your business at the current alert level.
Keeping customers and prospects informed during this time is paramount.
Every time we re-enter a different alert level, we want to know what we can still do during this period. It almost seems as if it's happening for the first time all over again. What services will be available? More restaurants seem to be offering takeaway this time around and more retail shops are offering a same day click and collect service.
As sudden alert level changes are becoming more of a reality and businesses are adapting, customers want to be kept in the loop. And they will be looking online.
Below are some examples of ways that businesses can easily inform their customers at any level.
We are going to cover a lot of information, so feel free to skip to the section that is most relevant for you and your business. We are going to discuss:
---
We're here to help!
If any of this sounds like too much work, we can help. For many of our customers we keep track of what their previous Covid-19 banners looked like and what they said. This way we can update your website for you with a moment's notice. If you would like help, just let us know.
---
Site-wide advisory notice: banner or pop-up
While social media notifications shouldn't be ignored, another great way to easily update your customers is on your business' website. This could be as straightforward as a simple sitewide notification bar at the top of your website or a large pop-up. This advisory notice could also include a link to a dedicated page or news category with a more comprehensive status update.

Notification bars & banners
Customers want to know what they can expect when interacting with your business at the current alert level. A quick and easy way to do this, is to set up a site-wide banner that can easily be updated as we move up or down levels. These slim banners usually sit at the top of the website directly above or below the header.
Usually one or two sentences, these Covid-19 banners keep key information concise. Wording can vary greatly depending on your business, but we find at the most basic level they should let people know if you are still open or operating. A link to find out more is always an option if you find there is too much information to comfortably fit in a slim banner.
You can choose colours that match your website, a contrasting colour so that it stands out but still works with your brand, or you can use the yellow that we in New Zealand have come to associate with Covid-19 alerts. The choice is yours.
Covid-19 banner examples
For ideas on wording, check out some examples of Covid-19 banners that our customers use on their websites.
Keep it simple with a statement of your commitment then lead your customers to a more detailed page like RedFish BlueFish does on their website. Because it is not dependent on level, this banner remains up on their website with no need to make frequent adjustments. This works especially well if your business continues to provide services throughout any level.

Simply informing your customers that you are open or providing services is important. This way there is no guesswork involved and customers can be confident before they contact you. It doesn't hurt to add a quick call to action to encourage visitors to get in touch just as LA Hughes Plumbing does on their banner.

Emergency or essential services can operate at all levels to a certain extent. Reminding your customers what this means for them is extremely helpful. Meadowbank Dental link from their banner to a page where they explain what is considered "urgent" and what differences can be expected at appointments during this time.

Auckland Irrigation change their website banner text with the changing alert levels so that customers can see at a glance what to expect. Between contactless services, social distancing and changing opening hours, there can be a lot to cover.


Pop-ups
We all know that pop-ups can be frustrating. But they do serve a purpose in times like these. When there is vital information that all customers need to know, don't make them search for it.
Even more so than a site-wide banner, a pop-up that opens upon entry is certain to get the information across. Are you open and providing services or temporarily closed? Are you considered an essential service and only operating under certain circumstances? Let your customers know.
Covid-19 status update page
If you need to provide more information than a simple notification can deliver, a dedicated page is a great option.
The banner or pop-up can include a 'Read More' button that links to this new page.
A Coronavirus advisory page is easy for you to update as procedures and levels change, and it can provide more details and helpful information for your customers. It can be as thorough as you need it to be. This page should detail how your business is responding to the Covid-19 pandemic and how these changes may affect your customers.
This can include information such as:
Any changes to hours of operation or service areas.

Which services will continue to be offered and at what capacity.

The steps you take to keep staff and customers safe at each alert level.

If any new services are offered during this time, such as contactless services, click and collect or online appointments/meetings.
For an example of a website with a thorough page that covers how their business is responding to the Covid-19 pandemic check out the Redfish Bluefish Covid Update.

A dedicated Covid-19 news or blog category
If you want to roll out Coronavirus related information on an ongoing basis, then creating a new category in your blog or the news section of your website is a great solution.
The Covid-19 advisory in your notification bar can link visitors to this new category. If your procedures are changing rapidly, or you want to provide a range of useful tips for your customers during this time, then a single page won't be enough to cover it all. You will want to set up a dedicated Covid-19 blog.
This solution will give your visitors a place where they can find all of your Covid-related resources in one place. And it provides an organised location for you to produce endless amounts of content as required. Post a snippet of each article on social media and link back to it on your website. This brings customers to your site to read the full article or watch the video. From here they can explore the rest of your content.
For a great example of this in action, take a look at the Homebase Covid-19 blog. Among their Covid-19 posts, Homebase includes safety protocols, housing updates, and tips for preparing your property for sale during specific alert levels.

Don't forget to inform customers on social media
Customers expect to find current information on social media so make it easy for them by keeping on top of all of your different networks. Especially those where your audience is most active.
Google My Business
Informing customers on Google is very important. This is often the first place many people look when searching online for information about a local business.
On your Google My Business listing, you can update your hours, even if they have changed only temporarily. Google has also added new attributes to show that you offer new services like no-contact delivery or curbside pickup. Also included are new options to select relevant health and safety measures, such as if masks are required, if reservations are essential, or if staff are required to disinfect surfaces between visits.
In addition, you can create a Covid-19 update post. These posts are shown higher up on your knowledge panel than other posts, however, you can not add a photo, they will be text only.
Learn more about updating your Covid-19 related information from Google's Guidance for Businesses affected by COVID-19
LinkedIn
If you are a B2B business, then you will want to prioritise what is on your LinkedIn business page.
On LinkedIn, you can pin an update to the top of your business page's feed. This way the most important information will always be seen first above your other updates.
Learn how to pin updates on your LinkedIn Page.
Facebook
For retail businesses, customers may be searching for information about you on Facebook.
As with Google and your website, it is important to update your hours of operation on Facebook so that customers don't get mixed messages.
Similar to LinkedIn, Facebook also allows you to pin an advisory at the top of your page to make it more visible. The process is quite simple.
Learn how to pin a post to the top of your Facebook Page's timeline.
We like to believe that most kiwis are understanding of the ever-changing situation we are all in. But as businesses, if we do our best to help simplify things for our customers, and their stress can be reduced, then we are all better off.
We are all in this together!
---
We're here to help!
If you would like us to add a banner to your website, or keep your social networks up-to-date, just get in touch and let us know what you would like the banner or social post to say.
If you need help with anything just let us know!
---
Make the most of the lockdown series
This information about creating Covid-19 banners for your website is a part of our Make the most of the lockdown series.