The updated New Zealand Privacy Act (2020) comes into effect on 1 Dec 2020
The 2020 update to the NZ Privacy Act is the first overhaul it's seen in over 20 years and more closely aligns the law with evolving ideas of privacy in the digital age.
How do I know if my website meets its obligations under the NZ Privacy Act?
Ensure your website has an SSL Certificate
Small business owners often don't pay attention to cyber security, believing that their website is not even worth being attacked. And this is what makes them a perfect target! Without an SSL Certificate, your website is extremely vulnerable to data breaches.
One of the requirements under the NZ Privacy Act is to protect your customers' data at all times.
An SSL certificate is a bit of code on your web server that provides security for online communications. When your customers contact your website via a browser, an SSL certificate enables an encrypted connection and assures visitors that their connection is secure.
Ask us about an SSL certificate for your website
Review your privacy statement to make sure it's compliant
If your business collects any personal information, you must comply with the New Zealand Privacy Act 2020. Personal information includes (but is not limited to) name, address and contact details. This policy is your business' public statement of how you will comply with the Act.
Add / review / update your website's privacy statement and make sure there is an easily found link to it on your footer menu. If you're starting from scratch, an online privacy statement generator can be helpful.
Tip: Take a look at the privacy statements from businesses that are similar to yours
Consider adding a Cookies notification to your site
Under the Act, you need to tell people how and why you are collecting their information and to ensure that your customers and clients understand how you will use their information,
This includes using cookies on your website. In addition to having a paragraph about Cookies in your privacy policy, consider adding a Cookies notification on your website. This can be a subtle pop up that doesn't interfere with the user's experience of your website.
The updated Act contains several significant changes to New Zealand's privacy law which will apply to all New Zealand businesses and organisations, who should be prepared for these changes.
There's a lot of information online regarding the Privacy Act 2020 updates, as well as help and advice on your obligations under the Act. Here are some useful links:
An overview of the NZ Privacy Act 2020 updates
Mostly, the updates call for changes to a company's privacy policies and data protection practices with compliance effective from 1 Dec 2020.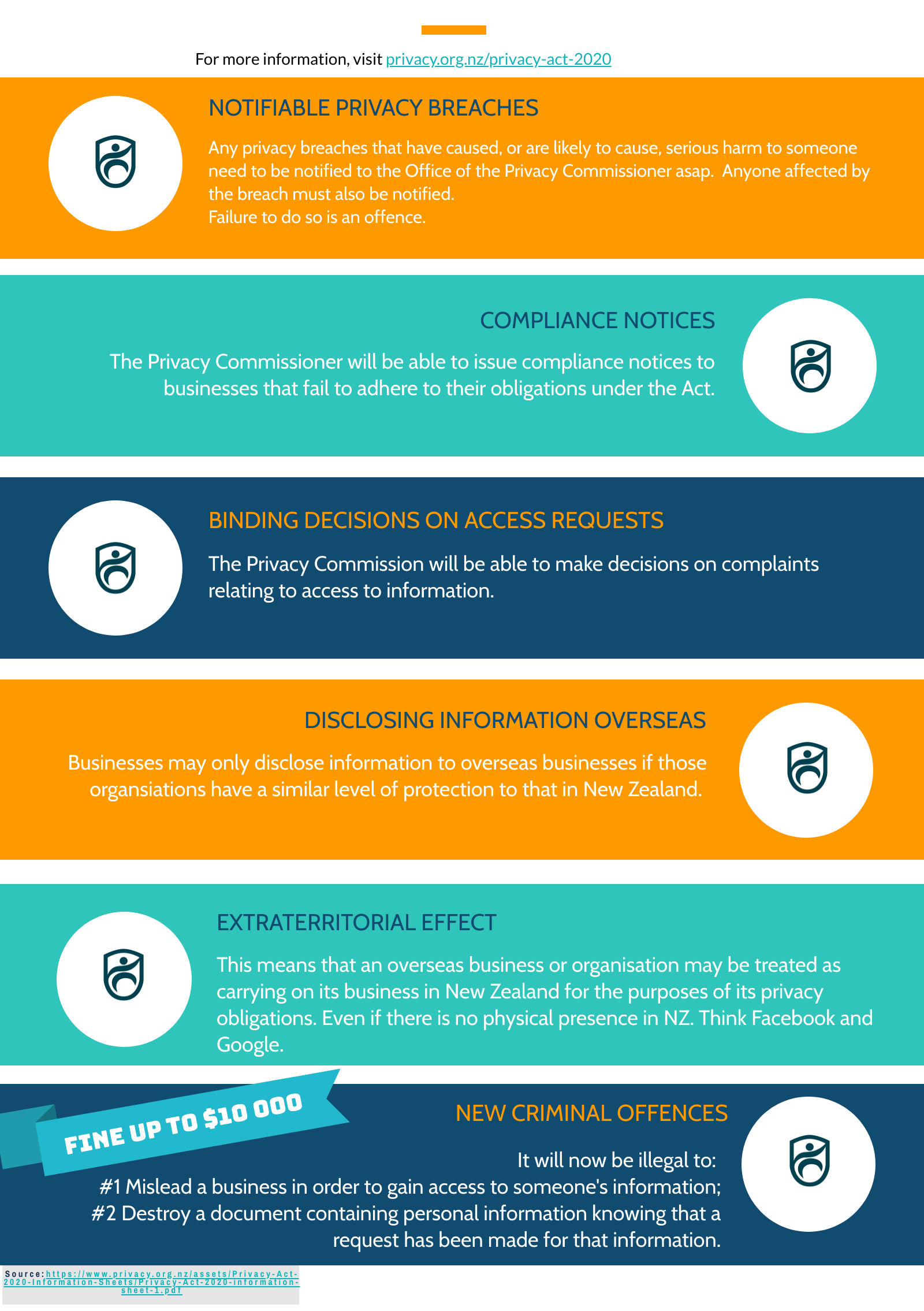 If you're a business that already takes data privacy and security seriously, as all should,
the new Privacy Act won't greatly change the way you work.
You should however take the opportunity to review key privacy areas of your business, including your website.