LOCAL FOCUS
People are increasingly looking online for local businesses. Local SEO helps SMEs get found.
GOOGLE FRIENDLY
At Web Revolution, we keep up to date with Google's ever-changing algorithms.
REGULAR REPORTING
Our regular reports make getting important information about the performance of your website simple.
OPTIMISE CONVERSIONS
We help your website go beyond just being found, with improvements aimed at increasing leads and ROI.
HOW DOES WEB REVOLUTION OPTIMISE MY WEBSITE?
Every website, company and industry is different which is why we work with you to create a custom SEO strategy unique to your business so that our tasks are targeted to your needs and goals.
We will begin with a thorough audit of your website to determine the areas that need attention.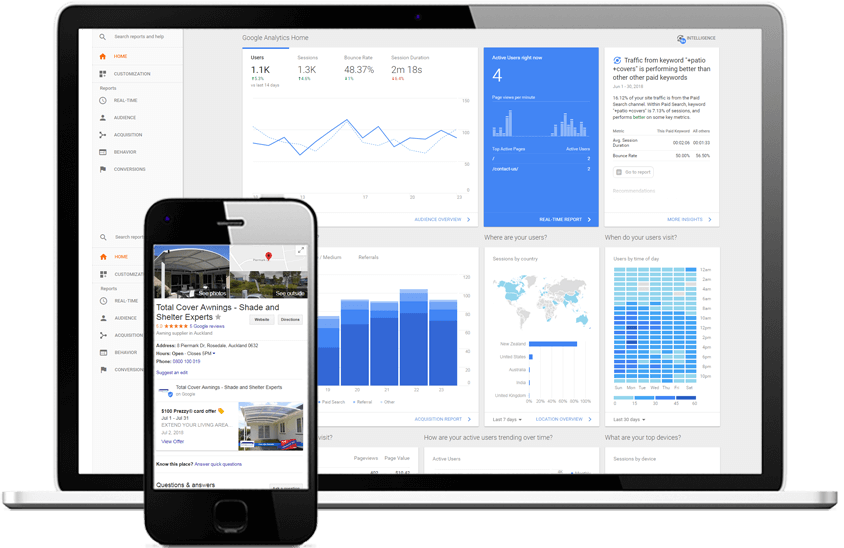 KEY FACTORS TO SEO SUCCESS
Website SEO Auditing
Competitor Analysis
Keyword research
Set up and optimise Google places listing / Google Maps
Metadata & image tagging
Page speed optimisation
SEO focussed content writing
Link Building (internal/external)
Social posting
SSL Certificates
Reporting/Analysis
WHY SEO NEEDS TO BE A FOCUS FOR YOUR ONLINE MARKETING STRATEGY
In order to grow your customer base, you need to be easily found – good SEO greatly increases those chances.
SEO is proven to work for both B2B and B2C businesses – no matter the type of business, your potential customers are highly likely to do some online research before making a purchase.
SEO is easily incorporated into your online marketing plan with a strategy that will boost traffic and conversion rates, as well as increase the reach of your website and content.
By investing in an SEO strategy for your business, you add credibility to your brand by getting your brand, website, or services onto those first few search pages.
SEO AND ONLINE MARKETING PACKAGES
At Web Revolution, the core components of SEO are incorporated into all of our online marketing plans to help drive traffic to your website.
Search Engine Optimisation
Search Engine Optimisation Available in Bronze Package
Search Engine Optimisation Available in Silver Package
Search Engine Optimisation Available in Gold Package
Search Engine Optimisation Available in Platinum Package
Traffic & Rank Optimisation
Traffic & Rank Optimisation Available in Bronze Package
Traffic & Rank Optimisation Available in Silver Package
Traffic & Rank Optimisation Available in Gold Package
Traffic & Rank Optimisation Available in Platinum Package
Google business optimisation & Weekly posting
Google business optimisation & Weekly posting Available in Bronze Package
Google business optimisation & Weekly posting Available in Silver Package
Google business optimisation & Weekly posting Available in Gold Package
Google business optimisation & Weekly posting Available in Platinum Package
Strategic Plan Available in Bronze Package
Strategic Plan Available in Silver Package
Strategic Plan Available in Gold Package
Strategic Plan Available in Platinum Package
Automated reporting Available in Bronze Package
Automated reporting Available in Silver Package
Automated reporting Available in Gold Package
Automated reporting Available in Platinum Package
Website auditing Available in Bronze Package
Website auditing Available in Silver Package
Website auditing Available in Gold Package
Website auditing Available in Platinum Package
Competitor analysis Available in Bronze Package
Competitor analysis Available in Silver Package
Competitor analysis Available in Gold Package
Competitor analysis Available in Platinum Package
Keyword analysis Available in Bronze Package
Keyword analysis Available in Silver Package
Keyword analysis Available in Gold Package
Keyword analysis Available in Platinum Package
Traffic analysis Available in Bronze Package
Traffic analysis Available in Silver Package
Traffic analysis Available in Gold Package
Traffic analysis Available in Platinum Package
Social media optimisation
Social media optimisation Available in Bronze Package
Social media optimisation Available in Silver Package
Social media optimisation Available in Gold Package
Social media optimisation Available in Platinum Package
Page speed optimisation Available in Bronze Package
Page speed optimisation Available in Silver Package
Page speed optimisation Available in Gold Package
Page speed optimisation Available in Platinum Package
Heatmap analysis Not Available in Bronze Package
Heatmap analysis Available in Silver Package
Heatmap analysis Available in Gold Package
Heatmap analysis Available in Platinum Package
Conversion optimisation Not Available in Bronze Package
Conversion optimisation Available in Silver Package
Conversion optimisation Available in Gold Package
Conversion optimisation Available in Platinum Package
Growth driven design Not Available in Bronze Package
Growth driven design Available in Silver Package
Growth driven design Available in Gold Package
Growth driven design Available in Platinum Package
Split testing Not Available in Bronze Package
Split testing Not Available in Silver Package
Split testing Available in Gold Package
Split testing Available in Platinum Package
Directory Management Not Available in Bronze Package
Directory Management Not Available in Silver Package
Directory Management Available in Gold Package
Directory Management Available in Platinum Package
Link Management Not Available in Bronze Package
Link Management Not Available in Silver Package
Link Management Available in Gold Package
Link Management Available in Platinum Package
Search Engine Optimisation
Search Engine Optimisation Available in Bronze Package
Traffic & Rank Optimisation
Traffic & Rank Optimisation Available in Bronze Package
Google business optimisation & Weekly posting
Google business optimisation & Weekly posting Available in Bronze Package
Strategic Plan Available in Bronze Package
Automated reporting Available in Bronze Package
Website auditing Available in Bronze Package
Competitor analysis Available in Bronze Package
Keyword analysis Available in Bronze Package
Traffic analysis Available in Bronze Package
Social media optimisation
Social media optimisation Available in Bronze Package
Page speed optimisation Available in Bronze Package
Heatmap analysis Not Available in Bronze Package
Conversion optimisation Not Available in Bronze Package
Growth driven design Not Available in Bronze Package
Split testing Not Available in Bronze Package
Directory Management Not Available in Bronze Package
Link Management Not Available in Bronze Package
Search Engine Optimisation
Search Engine Optimisation Available in Silver Package
Traffic & Rank Optimisation
Traffic & Rank Optimisation Available in Silver Package
Google business optimisation & Weekly posting
Google business optimisation & Weekly posting Available in Silver Package
Strategic Plan Available in Silver Package
Automated reporting Available in Silver Package
Website auditing Available in Silver Package
Competitor analysis Available in Silver Package
Keyword analysis Available in Silver Package
Traffic analysis Available in Silver Package
Social media optimisation
Social media optimisation Available in Silver Package
Page speed optimisation Available in Silver Package
Heatmap analysis Available in Silver Package
Conversion optimisation Available in Silver Package
Growth driven design Available in Silver Package
Split testing Not Available in Silver Package
Directory Management Not Available in Silver Package
Link Management Not Available in Silver Package
Search Engine Optimisation
Search Engine Optimisation Available in Gold Package
Traffic & Rank Optimisation
Traffic & Rank Optimisation Available in Gold Package
Google business optimisation & Weekly posting
Google business optimisation & Weekly posting Available in Gold Package
Strategic Plan Available in Gold Package
Automated reporting Available in Gold Package
Website auditing Available in Gold Package
Competitor analysis Available in Gold Package
Keyword analysis Available in Gold Package
Traffic analysis Available in Gold Package
Social media optimisation
Social media optimisation Available in Gold Package
Page speed optimisation Available in Gold Package
Heatmap analysis Available in Gold Package
Conversion optimisation Available in Gold Package
Growth driven design Available in Gold Package
Split testing Available in Gold Package
Directory Management Available in Gold Package
Link Management Available in Gold Package
Search Engine Optimisation
Search Engine Optimisation Available in Platinum Package
Traffic & Rank Optimisation
Traffic & Rank Optimisation Available in Platinum Package
Google business optimisation & Weekly posting
Google business optimisation & Weekly posting Available in Platinum Package
Strategic Plan Available in Platinum Package
Automated reporting Available in Platinum Package
Website auditing Available in Platinum Package
Competitor analysis Available in Platinum Package
Keyword analysis Available in Platinum Package
Traffic analysis Available in Platinum Package
Social media optimisation
Social media optimisation Available in Platinum Package
Page speed optimisation Available in Platinum Package
Heatmap analysis Available in Platinum Package
Conversion optimisation Available in Platinum Package
Growth driven design Available in Platinum Package
Split testing Available in Platinum Package
Directory Management Available in Platinum Package
Link Management Available in Platinum Package