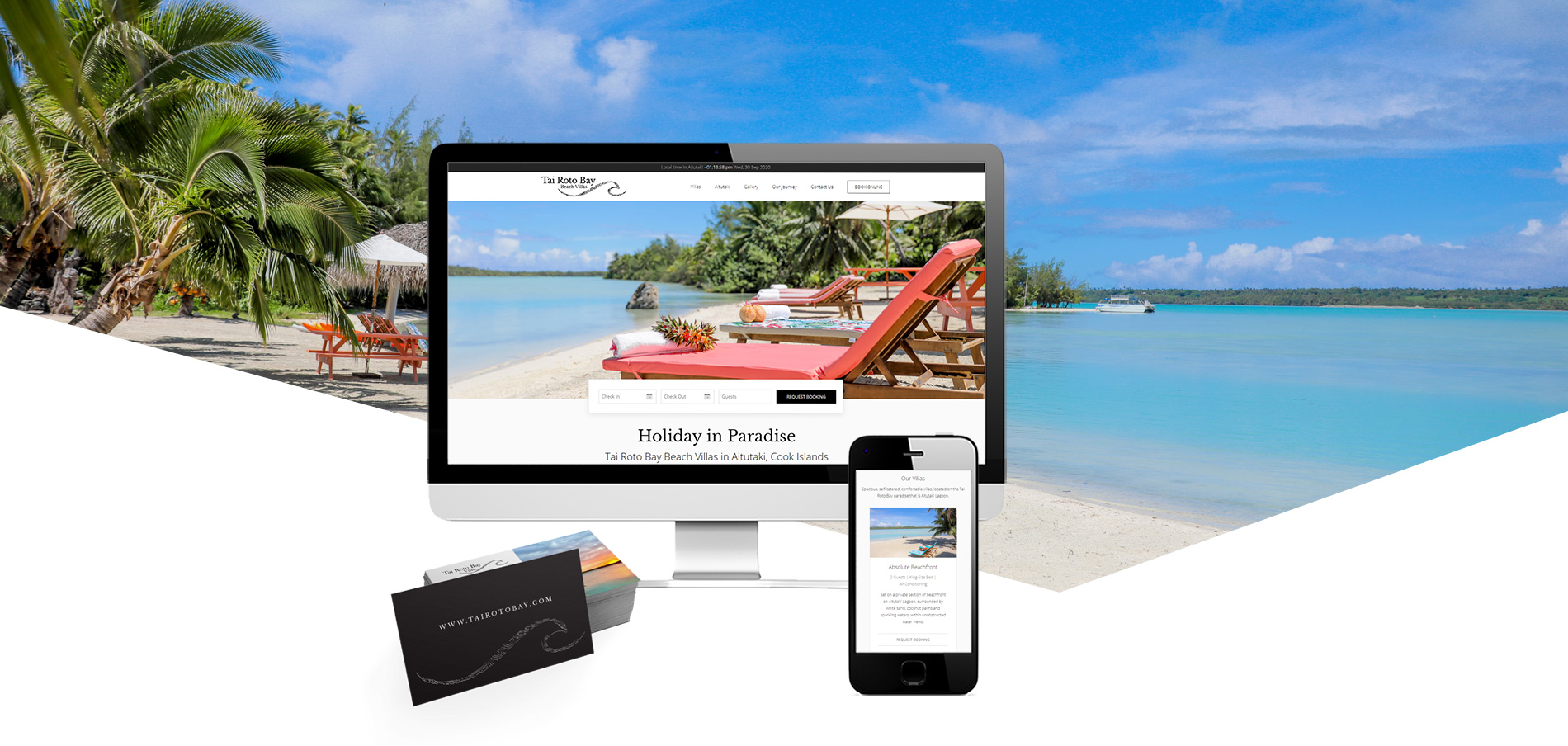 Taking control of their online presence
This client originally approached us as Inano Beach Bungalows who provide self-catered beachfront accommodation in Aitutaki. As a business, they had an online presence via booking sites and a website and url which they did not own and could not gain access to.
Wanting to take control of their digital presence, Web Revolution were brought on board to create an entirely new website, and establish the look for their new brand Tai Roto Bay Beach Villas.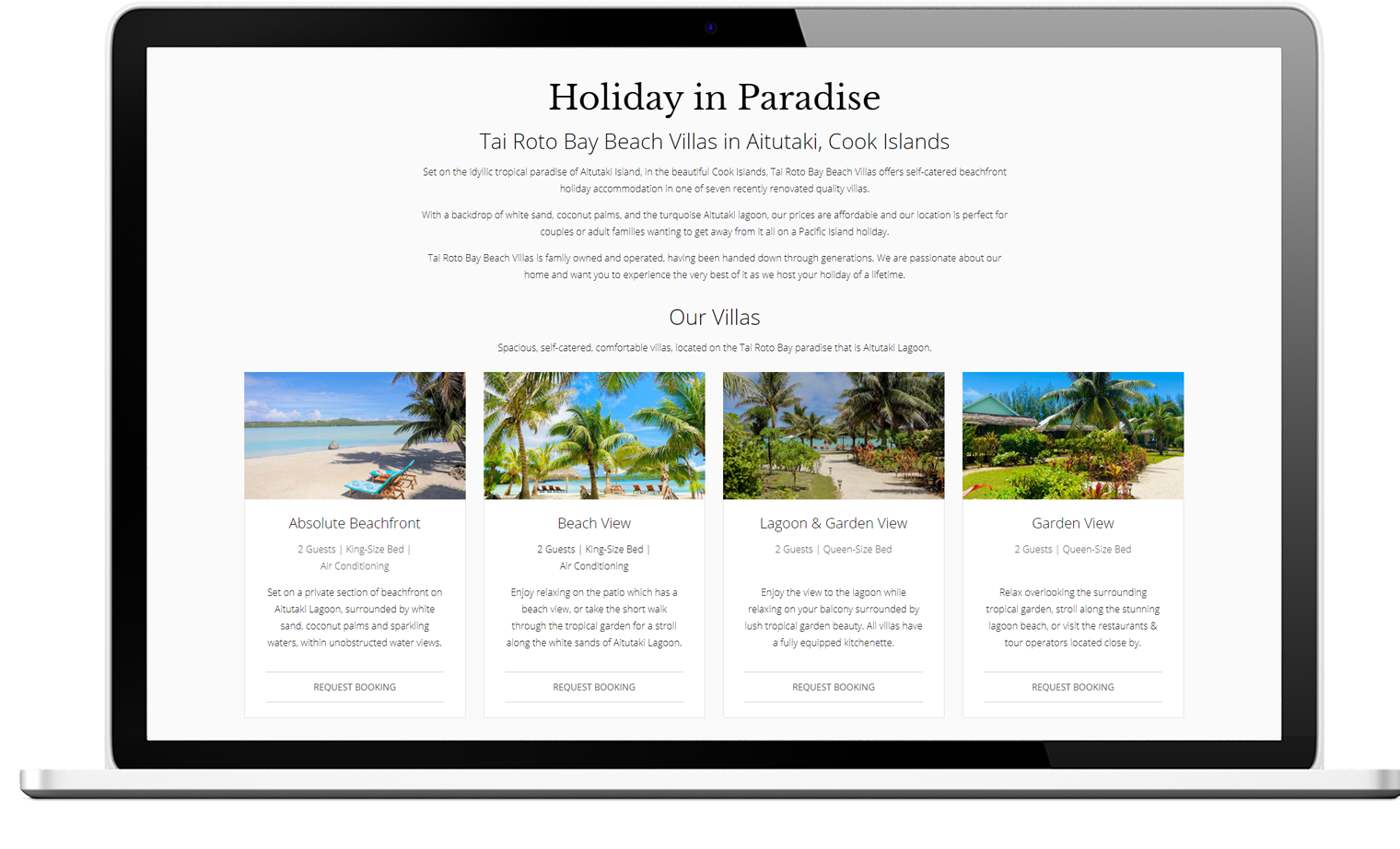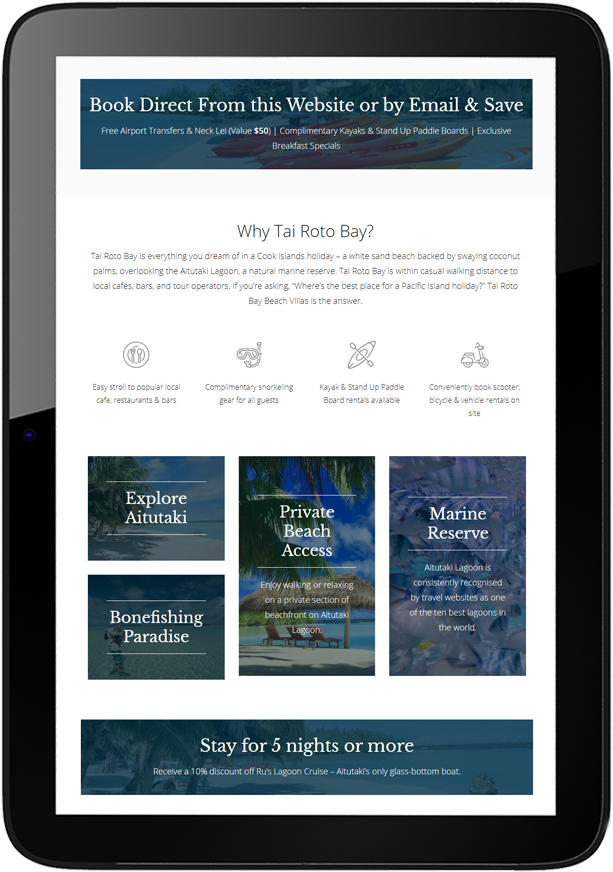 Showcasing Tai Roto Bay on a global stage
Tai Roto Bay Beach Villas needed a website to promote and market their beautiful beachfront accommodation to a global audience with the aim to increase direct bookings with a simple, user-friendly site.
To this effect, the website offers promotions for booking direct. While showcasing brightly coloured photos of their villas with private beach access, amenities and local activities help to educate and excite. In addition, it was important to the client that the website explains their journey and values as a family owned business supporting their local community. We are proud to be a part of this journey.
Glowing feedback from a happy client.
"My wonderful web site design experience all started with my first consultation meeting with Daniel who is the owner of Web Revolution. I was thoroughly impressed with Daniels attentiveness and his genuine intentions to help me and my business (god I needed help) with a brand new modern, sleek website design for my hotel in the Cook Islands. Daniel makes it a breeze to work with him as he is fun, flexible, reliable, creative and fantastic at communicating throughout the process of my new website which was a must for me as I live in the Cook Islands.
Melanee who is the website designer is an absolute design guru! Melanees work on my new web site is outstanding she was a phenomenal listener and everything I required she delivered on the design of my website which is detailed, functional, modern, eye catching it all exceeded my expectations and I am still blown away every time I open my new website.
I am over the moon with my new website it is one of my best and favourite investments I have made for my business.
I believe the website Daniel and his team have designed for me will remain timeless and it has given me such a confidence boost for my hotel and what we have to offer to the world:)!. Nothing is too hard for Daniel and his team to accomplish for your website needs. I would highly, highly recommend Web Revolution to any business person who is seeking an exceptional website design to help elevate their business that will truly stand out world wide!
10/10 Overall experience!"
Cheran Kimiora
Owner and General Manager of Tai Roto Bay Beach Villas
Revisiting the brand
The client took this time to revisit their brand. With a new look for both the website and the accommodation, they decided on a completely fresh start by renaming the business as well. A local designer in the Cook Islands was initially engaged to produce a logo that did not meet client expectations, so we were asked to take over the project.
The client requested a black logo with an island tattoo style pattern in the shape of a wave. We constructed the wave using a variety of Polynesian symbols that represent the sea, such as waves, sea turtles, sharks teeth, fish scales, and a person (Enata) to represent the visitor surrounded by the sea. The client was ecstatic with the result.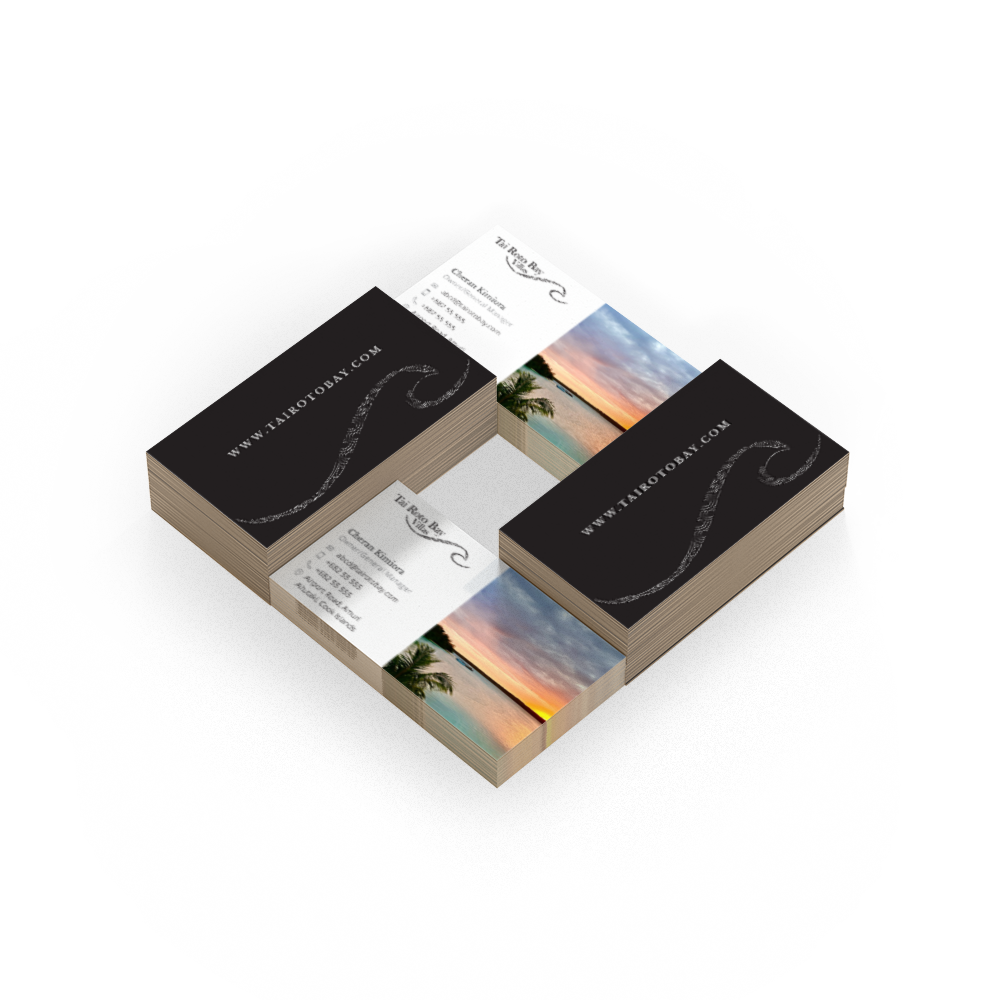 Attention-grabbing business cards
With a new name and logo, the client wanted a set of business cards designed. Reflecting the elegant simplicity of the website, the front consisted of simple black text with a brightly coloured photo of the beach . On the back the client specifically requested the new wave tattoo artwork with the website address in reverse on a black background. This creates a striking effect that grabs the attention of the recipient.